Stones Corner is situated just five kilometres from the Brisbane CBD and remains one of inner Brisbane's best kept secrets.
STONES CORNER OVERVIEW
Stones Corner is situated just five kilometres from the Brisbane CBD and remains one of inner Brisbane's best kept secrets. Stones Corner is a small urban village which sits within the boundaries of the suburb of Greenslopes in the inner south-eastern growth corridor.
Under Brisbane City Council's neighbourhood plan, Stones Corner will continue its transformation into a vibrant urban community whilst retaining its unique character and history. A number of planning initiatives have been set down to improve pedestrian linkages throughout the suburb and further activate Stones Corner's "high street".
Unlike the majority of inner Brisbane's suburbs, the density of development within the area is limited to smaller, boutique developments that complement the existing dwelling landscape. As a consequence of limiting the density of development the market's price growth and demand fundamentals are likely to remain sustainable and healthy over the long term.
DEMOGRAPHICS
According to data from the last Census, the area is principally populated by high-income earning, young urban professionals. At the time of the Census, one-third of the suburb's working population were employed in professional occupations with median personal, family and household incomes all at a premium to the state. Given the suburb's immediate proximity to some of Queensland's largest health nodes, it is not surprising that the primary industry of employment is health.
There is a particularly high concentration of the population aged between 20 and 35 years of age within the suburb. In fact 38% of the total population, at the time of the last Census, fell within this age bracket, compared with 22.5% throughout Brisbane. In line with this is a suburb that is a particularly popular address for students, with 40% of those attending educational institutions enrolled in TAFE colleges or universities.
HIGH
INCOME EARNING, YOUNG URBAN PROFESSIONALS
The suburb enjoys a high level of demand for rental accommodation with more than half (55%) of all households occupied under rental tenure.
The dwelling landscape is considerably less dense when compared with the majority of inner city suburbs with just under half of all dwellings comprised of apartments in comparison with 75% throughout the inner city. This is a distinguishing feature of the suburb, which will be maintained moving forward due to the planning instruments in place restricting the volume of future development within the suburb. Primary dwelling demand within the suburb is for two bedroom dwellings.
TRANSPORT & ACCESSIBILITY
The extensive transport infrastructure in place within Stones Corner affords residents excellent connectivity with greater Brisbane
Stones Corner enjoys easy access to a number of the South East's major roads and highways including the M1 Pacific Motorway, Logan Road, Ipswich Road and the TransApex ring road.
The Stones Corner Busway Stop is situated along the Eastern Busway which runs from Langlands Park in Coorparoo through to the University of Queensland's St Lucia Campus stopping at a number of key locations including the Princess Alexander Hospital. The Busway connects with the South-East Busway at the adjoining Buranda Busway Station and the Northern. Busway in Brisbane's CBD. Via the Busway networks, residents can reach the CBD in 15 minutes, the University of Queensland in 10 minutes, the Princess Alexandra Hospital in under 5 minutes.
The Maroon CityGlider high frequency service runs from Stones Corner through to Ashgrove in the inner west. The CityGlider stops at key locations including The Gabba, South Bank Parklands, the CBD, Caxton Street and Suncorp Stadium. The service runs every 10 minutes during peak times and every 15 minutes off peak. On Friday and Saturday nights, the service runs 24 hours a day. The Maroon CityGlider provides a regular and efficient connection with major employment, entertainment, sporting, shopping and dining precincts throughout inner Brisbane.
EMPLOYMENT
Stones Corner is particularly well located within close proximity of not only the Brisbane CBD but a number of major employment and education nodes.
According to the latest data available, Brisbane's CBD workforce sat at 156,545. By 2031 the number of workers within the CBD is projected to expand by more than 65,630 to reach a total of 222,1751 . This significant jobs growth will inevitably underpin demand for new, inner-city dwellings in locations including Stones Corner.
Stones Corner is not only within walking distance of the Greenslopes Private Hospital but within immediate proximity of two of the state's largest health nodes – the Princess Alexandra Hospital and The Mater health precinct. The Mater health precinct is comprised of the Mater & Mater Mothers' Public Hospitals together with the Mater, Mater Mothers' and Mater Children's Private Hospitals. With the opening of the $1.5 billion Lady Cilento Children's Hospital in late 2014, the Mater health precinct in Woollongabba became the largest medical employment node in Queensland.
There are currently more than 25,000 health workers employed collectively across these facilities. These workers have been, and will continue to be, the major driver of dwelling demand throughout the suburb.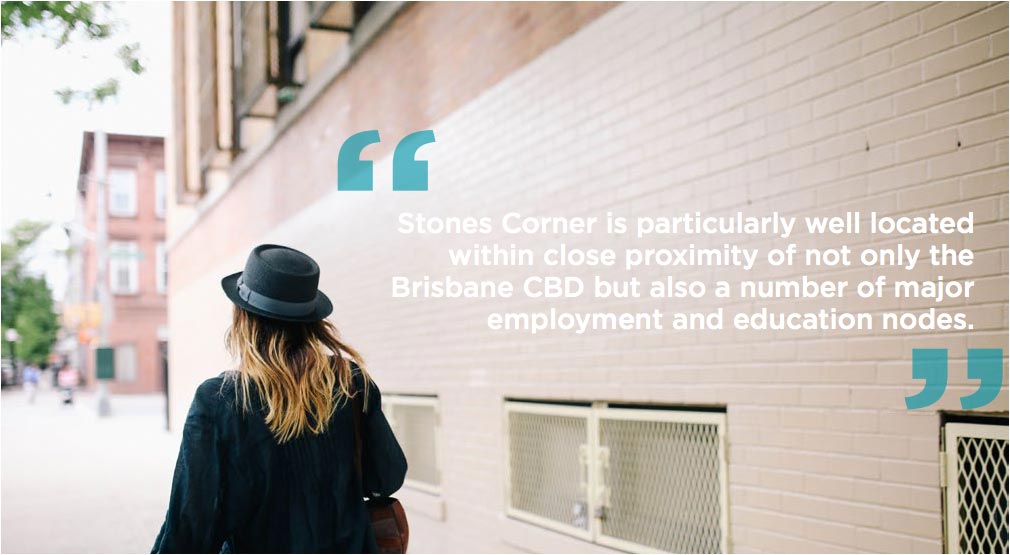 South Brisbane is currently Brisbane's largest city fringe employment node employing an estimated 22,700 persons. By 2031 the suburb's workforce is projected to more than double to reach over 46,4002. A similarly strong workforce expansion is expected to occur within the neighbouring suburb of Woolloongabba which will see its workforce grow by more than 19,500 new workers to reach over 35,380 over the same time period. In summary, the latest data reflects an estimated workforce of 195,115 sits within a five kilometre radius of Stones Corner. By 2031, the number of workers within the catchment is projected to increase by around 108,900 to reach a total workforce of 304,000.
EDUCATION
In concert with being located within close proximity of some of the state's largest employment nodes, Stones Corner is well located within close reach of the state's largest tertiary institutions. The University of Queensland's St Lucia & Herston campuses, QUT's Gardens Point (CBD) and Kelvin Grove campuses, Griffith University's South Bank & Nathan campuses and the South Bank Institute of Technology are all within a 10 kilometre radius of Stones Corner.
Across these campuses collectively more than 122,200 students are enrolled. Given Stones Corner enjoys such a high level of connectivity with each of these institutions, students are a core driver of rental demand.
Some of Brisbane's most prestigious schools including the Anglican Church Grammar School, Somerville House, Brisbane State High School and St Laurence's College are each within 3.5 kilometres of Stones Corner.
RETAIL
The Stones Corner community has easy access to a variety of boutique and speciality retailers together with full line supermarkets, which can be reached on foot, via the local public transport networks or by private vehicle.
Stones Corner Village, anchored by an Aldi Supermarket, is the primary retail centre servicing the everyday needs of the community. The centre is home to a number of speciality retailers, service providers and health practitioners and contains the popular "Stones Corner Village Restaurant Precinct".
The Greenslopes Mall is situated a five minute drive from Stones Corner Village affording residents an additional retail and professional offering together with a full line Coles Supermarket.
Westfield Carindale is a short tenminute drive, or 20-minute bus journey from Stones Corner. The Centre is the third largest shopping centre in Queensland incorporating the Carindale Home & Leisure Centre, a state-of-the-art Event Cinemas complex and more than 410 retailers including David Jones, Myer, Big-W, Target and Apple.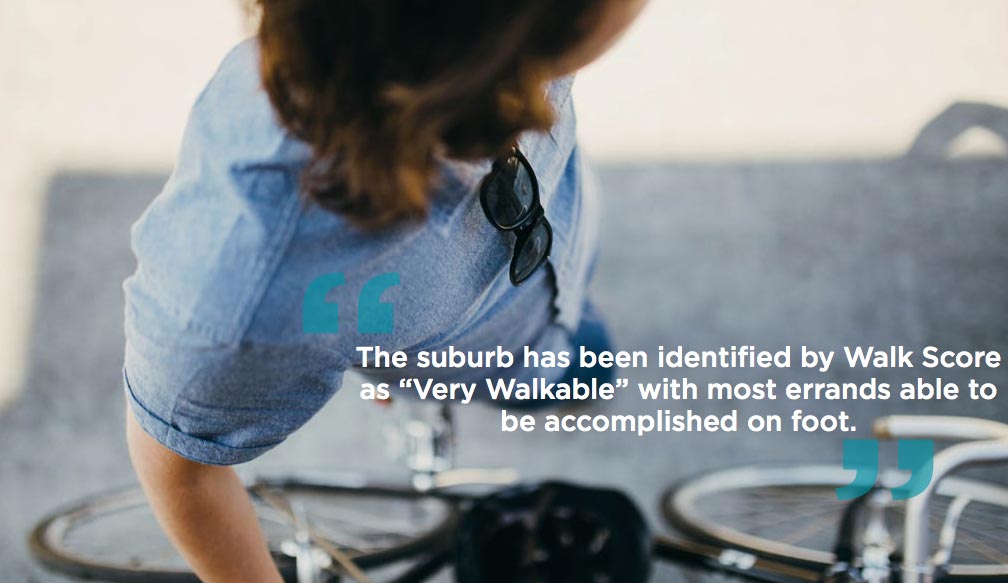 CAFÉ CULTURE & DINING
The suburb has been identified by Walk Score as "Very Walkable" with most errands able to be accomplished on foot. There are an estimated 114 restaurants, bars and coffee shops in the area with residents able to walk to an average of five of them within five minutes.
Stones Corner is enjoying a period of urban rejuvenation emerging as one of inner Brisbane's newest boutique dining and retail destinations. Stones Corner's "high street" is made up of a number of popular, funky cafés and restaurants which sit alongside the iconic Stones Corner Hotel. Stoneham Lane, situated within an easement adjacent to the Stones Corner Hotel, was one of inner Brisbane's first laneway precincts inspired by the success of Fortitude Valley's laneway culture. Stoneham Lane is home to Tuckeria Fresh Mexican, Horse Meat Disco Salon and Grindhouse Espresso.
The Stones Corner Craft Beer, Cider & Wine Festival is held each May along the Logan Road 'high street". The all-day festival brings together Brisbane's best food trucks, local and national brewers including Coopers, James Squire and Stone & Wood and The Barossa Valley Cider Co. The Festival is not only a popular event for the local community but draws crowds from throughout Brisbane.
RECREATIONAL AMENITY
The population of Stones Corner are fortunate to have access to a diverse range of green, open spaces which encourage healthy, active lifestyles. The suburb is bordered to the west by Hanlon Park, the A.J. Jones Recreational Reserve, Thompson Estate Reserve and Ekibin Park South which occupy a total combined area of more than 21 hectares through which the Normal River runs. This green corridor is one of inner Brisbane's largest urban parkland areas and a significant natural asset for the local community. The combined parkland contains children's playgrounds, cricket fields, a half court, soccer field and bbq/picnic areas. A number of other small pocket parks are also situated throughout the area.
The seven-hectare Langlands Park sits on the eastern boarder of Stones Corner. Langlands Park is one of the inner south's major sporting and recreational facilities home to the Langlands Park Memorial Pool, the home ground of Easts Tigers rugby league club, Easts Leagues Club, a children's playground and various areas for both passive and active recreational pursuits.
The Southeast Freeway Bikeway, which runs parallel with the Southeast Freeway from South Brisbane to Eight Mile Plains, runs along the border of Stones Corner. With an immediate connection to the Bikeway the community is not only provided with another valuable piece of recreational infrastructure but an alternative method of commuting to work.
RESIDENTIAL MARKET FUNDAMENTALS
Over the past ten years, the median apartment price within Greenslopes has risen by an outstanding 45% (or, by $115,000). On an annual basis, median values have grown by an average of 3.1% which is considered to be a sustainable rate of growth.
The underlying demand for new apartments within the suburb is measured as particularly strong. Recently completed developments have recorded both high absorption rates and achieved solid price premiums over existing, older apartment dwellings within the suburb. In 2014 and 2015 a handful of new developments were completed which resulted in lifts in median values of 9.0% and 10.7% respectively demonstrating clear market support for the value of new apartments within the suburb.
Given the limited opportunities for future development within suburb, we expect the healthy historic market behavioural trends to continue in line with the injection of new developments in the market place.
RENTAL MARKET
Rental market conditions throughout the suburb are particularly strong with the market currently reflecting an average gross rental yield of 5.2% and a low vacancy rate of 2.6%.
Supply of new apartment product within the suburb is highly constrained with rental take up of new apartments occurring in line with new injections of supply. At the time of undertaking this research there were only two, new two-bedroom apartments available for rent at an average asking rent of $460 per week. These fundamentals combined point to a market that is currently in a state of rental undersupply.